Monday, August 13, 2018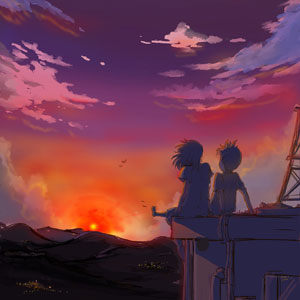 I placed my second order with the artist, and once again he did not disappoint.
The illustration turned out much more cheerful than I expected, and it did not really match how I imagined the scene, but I was blown away nonetheless. To my eye, this is the kind of art that sells books to children and young teens.
I am left with a dilemma, though.
My book was really targeted at adults and young adults. By leaving out swearing, sex, and unnecessary violence, I thought I could appeal to a wider audience. I started reading adult science-fiction and fantasy at the age of twelve, and children that age are bright enough to understand adult fiction. Unfortunately, the artwork is more suitable to pre-teen adventure novels than grim young adult post-apocalyptic fiction. Yes, it was not going to be too grim, but how can I possibly have artwork like this in a book targeted at jaded young adults?
I love the art direction, so I think I am going to scrap the outline I have and start over as a dedicated adventure series for middle-grade readers. I have no idea what this means for my market as I was researching adult science-fiction categories on amazon, but I think it will work for my debut series. I still plan on launching the first book with book two on pre-order and having book three ready to go before book two launches.
My original plan was to launch book one in December, but the extra six months should result in a much better book.
Amazon allows a three-month pre-order, so it will be safe to put it up in May. I will be concentrating on amazon for this series, so the books will not be available on other platforms for the first six months to a year.